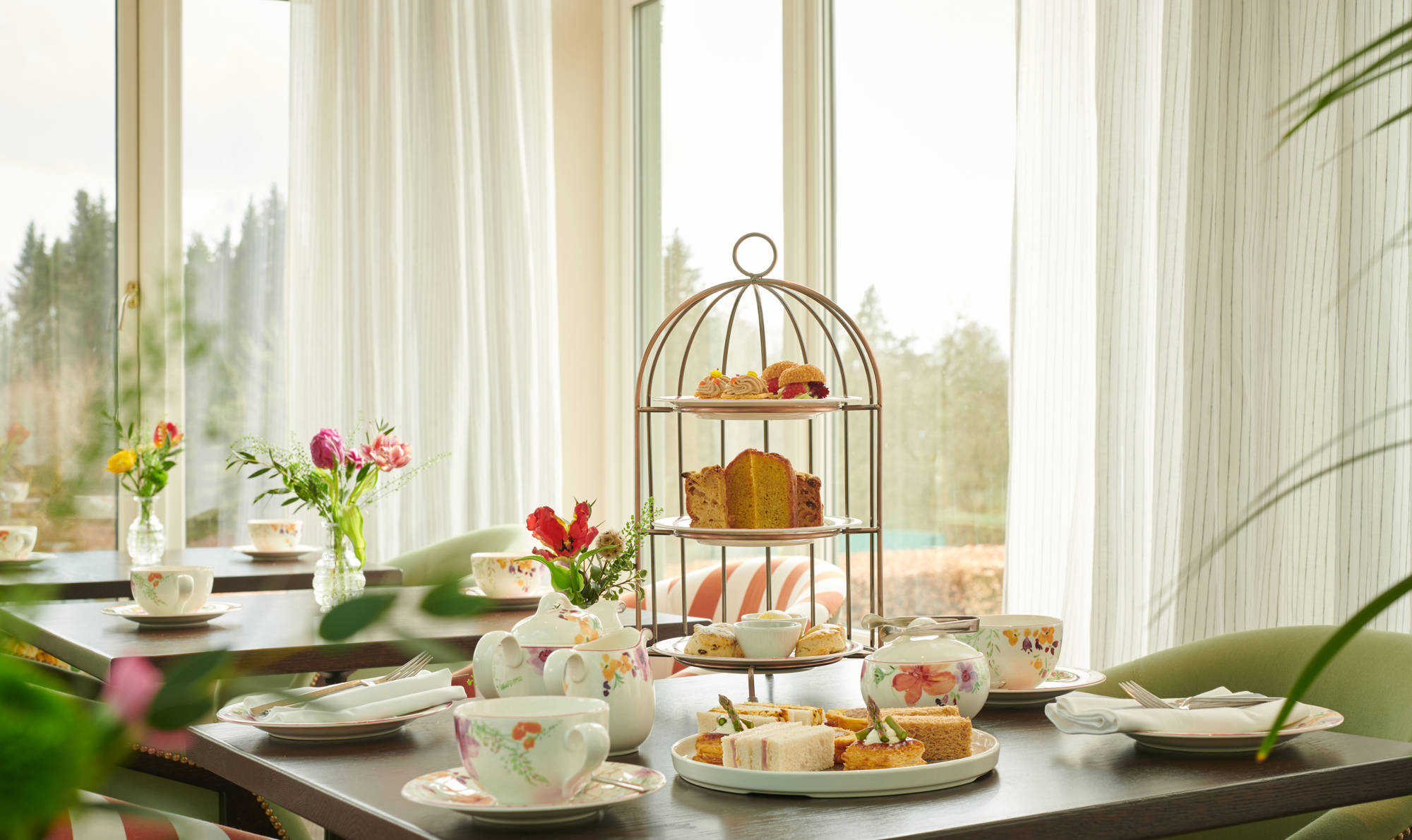 Thursday 12th October, Thursday 19th October, Sunday 5th November and Sunday 19th November 2023
Tiger Tea Parties - Tiger Themed Afternoon Tea for Kids
The Tigers are coming to Tea!
Join us this Autumn with your children for a tiger-themed, educational and indulgent afternoon at Cromlix this October and November. Learn more about tigers in the wild from charity WWF, whilst enjoying one of our famous afternoon teas, and listen to a reading of Judith Kerr's famous picture book, 'The Tiger Who Came to Tea'. Our series of Tiger Tea Parties kick off on 12th October with a special guest reading by Judy Murray, and WWF scientist, Mary Gagen.
Kid's Tiger Tea Menu ~
Sandwiches on soft bread: ham, cheddar, peanut butter and jam
Mozzarella and tomato pizza Danish pastry
Tiger tooth finger bun filled with jam and clotted cream
Tiger claw Empire Biscuit
Tinned Tiger Food (chocolate mousse, caramel, shortbread crumb)
Milk, fruit juice and water
Adult's Afternoon Tea Menu ~ Click here to view full menu
TO BOOK: To book your place or to find out more, please call us on 01786 820310 or get in touch via events@cromlix.com 
AUTHOR AND PUBLISHER NOTES: 'The Tiger Who Came to Tea' was written by Judith Kerr and has been published by HarperCollins Children's Books. For more information on Judith and her books, please refer to www.tigermogandfriends.com.
WWF-UK. Registered Charity no: 1081247 (England and Wales) and SCO39593 (Scotland).
Price: £20.00 per child / £35.00 per adult
Tiger- themed afternoon tea with kid-friendly dishes including Tiger Tooth finger buns, and Tinned Tiger Food chocolate mousse
Exclusive reading of the much loved story 'The Tiger Who Came to Tea' with special guest readers for each occasion
Presentation on tigers by WWF's Chief Forests Adviser, Mary Gagen (12th October event only)
Special WWF tiger activity pack for every child
Option to buy a WWF tiger toy and limited edition WWF version of 'The Tiger Who Came to Tea' picture book
Tickets priced at £20.00 for children (children price is available up to age 12) and £35.00 for adults, with a donation to WWF with every ticket sold. Tiger Tea Parties will be taking place between 2pm and 4pm on Thursday 12th October, Thursday 19th October, Sunday 5th November and Sunday 19th November 2023.
Full advance payment on booking.