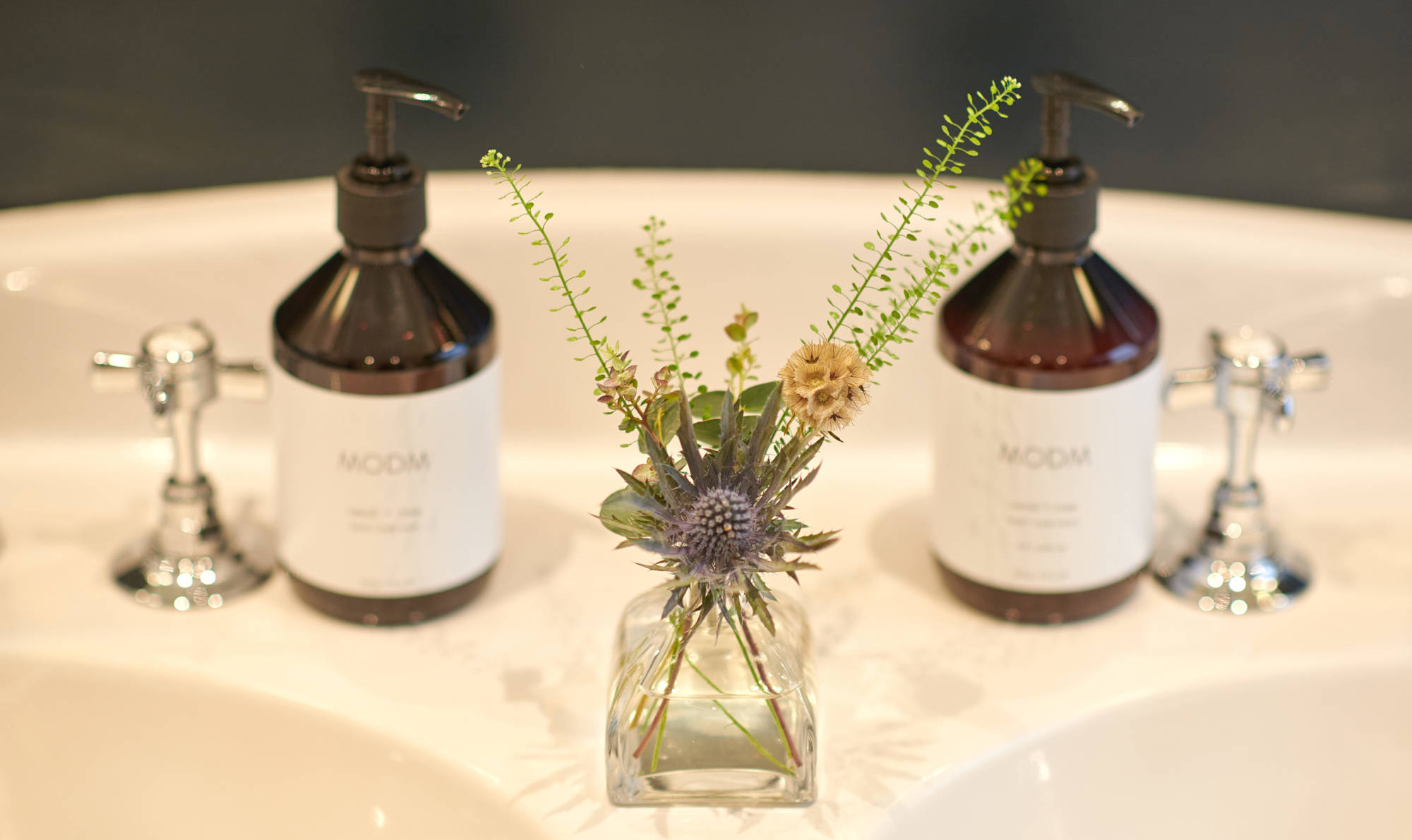 We care about reducing our carbon footprint and making a positive impact on the local community. To discover how we're developing and maintaining sustainable practices, you can read our dedicated Sustainability Policy below.
Developing a responsible approach to hospitality and tourism with a focus on cultivating sustainable growth

Working on our energy efficiency:
New insulated piping system introduced throughout the hotel.
Thermostatic valves in all bathrooms, with underfloor heating and individual towel rails controlled by seven-day programme controllers.
Windows sealed and repointed externally to prevent heat loss.
More efficient radiators installed throughout the hotel.
Bathroom walls thermally insulated.
LED lighting where possible.
Borehole and spring water supply system reducing the need for mains water to be pumped into the estate.
Automatically closing entrance doors to keep in heat.
Refillable in-room toiletries to reduce plastic waste.
Use of locally produced ingredients and locally sourced Scottish suppliers (e.g. our MODM aromatherapy bathroom products from an Edinburgh-based supplier).
Upcycled furniture used wherever possible in 2023 refurbishment.
Flowers and herbs grown on site to reduce need for deliveries.
Training of staff to switch off appliances not in use.
Currently, we have engineers on site reviewing all systems to see where future improvements can be made, including plans for an air source heat pump for the restaurant.
Use of local Dunblane dry cleaners Green Clean, eco-friendly specialist dry cleaners, using chemical free cleaning for all garments.
Use of Littles Chauffeur Drive, which has a silver rating in Green Tourism.
Making Cromlix inclusive and accessible to all:
We are building two new ground floor bedrooms, including an accessible suite with wet room, due to open spring 2025.
Enhanced arrival route to the hotel, rising the ground and taking away steps to the hotel to enter to allow far better accessibility. The addition of resin bound roadway on entrance also makes the accessible journey easier.
Variety of bedroom options to accommodate individual requirements.
Staff recruitment policies encourage diversity and working patterns are designed to suit different needs and lifestyles (such as part time etc). We employ a large amount of local young people throughout the hotel, working around their school and college timetables to accommodate their schedules.
We host regular brand workshops with all staff to engage them in the Cromlix vision, mission and values of the hotel.
We deliver diversity, inclusion and equality training through our online training portal, FLOW and in person.

Engaging with the local community:
We work regularly with local primary schools. We are assisting, for example, with hosting a home baking stand at the summer fête, working towards an experiential and educational programme through the culinary arts association, where children learn hospitality skills (both cooking and service), culminating in a dinner event for teachers and parents, where the pupils cook and serve.
Our chef uses the most local produce available where possible, sourced from small artisan suppliers rather than large national businesses.
Recruitment of staff from the local area.
Use of Scottish suppliers (e.g. from printed materials to trades companies to marketing agencies) for our refurbishment and rebrand.
Collaboration with RSA, supporting local Scottish artists.
Creation and promotion of specific events targeted at the local community, e.g. summer pickleball clinics with Judy Murray.